Vermont State Association Puts on Exceptional Fire Ops 101

The Professional Fire Fighters of Vermont executed a successful Fire Ops 101 event on October 4, 2006. Their event featured four scenarios Building Search and Hose Line Advancement, Vehicle Fire, Vehicle Rescue/Extrication and Cardiac Arrest Management.
"It was incredible," said Aaron Collette, who coordinated this complex event and is a fire fighter in Burlington . "We had 16 participants, including the governor who stopped by." Their local media also covered the event and broadcasted it statewide.
PFFV had hoped to put on Fire Ops 101 for several years and this year, the budget and opportunity came together. They made sure to give participants an authentic experience—suiting them up participants in SCBA, using a smoke machine and making them search for a dummy in the smoke.
Their main focus, however, was educating elected officials about fire fighter training across Vermont . "We wanted them to understand the profession and that we need specialized training," explained Collette. Their plan for the event was to show how badly they needed funds for their state training academy. The academy doesn't have showers or even bathrooms. The Fire Ops 101 participants had to use the portable restrooms, just as the recruits must use during training.
The PFFV hoped that improving their training facility would become a priority for those making decisions about fire fighters. In addition to lacking basic facilities, recruits also do not have a training classroom at the academy. In training exercises that would normally be done in a classroom, they do on a concrete floor in the garage. Fire Ops participants saw the difficulty in trying to learn EMS techniques when they tried their hand at a cardiac patient.
Vermont fire fighters also emphasized how important specialized training is for the profession through their scenarios, especially the extrication station. Participants used hydraulic rescue tools and cut an automobile open. They saw that with new vehicle technology, there is a vital need for fire fighters to be educated in the latest rescue techniques. "It certainly opened the eyes of elected leaders," said PFFV President Steve Locke.
In addition to improving their training academy, the event also brought together leaders from smaller communities where staffing is an issue. Those leaders were able to see what it is like to have two people, versus three or four people, on a pump.
"Our real home-run was having our candidate for the U.S. House of Representative who searched through a burning building." explained Locke. "He said how strenuous and dark this work is."
Fire fighters from across the state of Vermont made this Fire Ops 101 a success. "They made it happen on an incredible timeline," says Collette. "The event ran smoothly with the format from the IAFF's website."
Having just run through the event, President Locke noted a few of the challenges they faced, including the extra time to factor in for teaching about SCBA basics during the first scenario. They found that by being flexible and having a plan for these anticipated obstacles before hand, allowed them to be ready for what the event brought.
"We think they will take us more seriously," says Locke about his elected officials after completing this intense day. "And I think we built some real friendships that weren't there before."
To hear more about Vermont 's event check out Channel 3's coverage here.
Fore more resources on Fire Ops 101 visit the Downloads section, where you can also find some of PFFV's planning uments.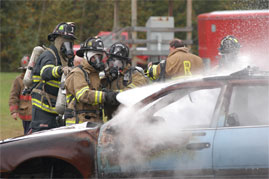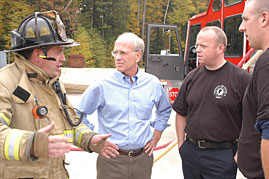 The PFFV stands with our Candidates
The PFFV issue the following statement in response to a political event held at a local fire station:
In April of 2006 The Professional Fire Fighters of Vermont endorsed Peter Welch for Congress. After meeting with Both Martha Rainville and Senate Pro-Tem Peter Welch, it was clear to the members of our Organization that Peter Welch has the experience, leadership and ability and therefore was the fire fighters choice to represent Vermont in Congress.
Peter has delivered on our issues in the Vermont Senate and will deliver on our issues in Congress. He is the right candidate for Homeland Security, Assistance to Fire Fighter Grants Programs, SAFER Staffing Grants and will speak for the Labor Issues that Fire Fighters and working Vermonters face every day.
At a time when this Republican Congress has attacked our pensions, our overtime and our rights as union members and when the President of this country has ZERO funded our staffing and equipment grants that assist fire departments across this country, it is extremely important that we elect Peter Welch to Congress. Peter will be our voice for homeland security and Labor.
In early March after meeting with both Rich Tarrant and Congressman Bernie Sanders it was also very clear who the fire fighters choice was going to be for the open Senate seat in Vermont. Bernie has also delivered for fire fighters and working Vermonters for 16 years in the House of Representatives.
Bernie's 100% Labor record shows that he listens to the needs of fire fighters and working Vermonters. Bernie has been a sponsor of several pieces of legislation that support fire fighters including the restoring of the SAFER Grant program after the President zero funded that program and the Assistance to fire fighters grant program that was cut by over 50% by President Bush. Congressman Sanders has been the voice for fire fighters in the House an now we are looking forward to him being our voice in the United States Senate.
The Professional Fire Fighters of Vermont have also endorsed the re-election of Governor Jim Douglas and Lieutenant Governor Brian Dubie and are looking forward to working hard to make sure that these two candidates who have worked hard for firefighters will be re-elected. We stand with our Candidates.
PFFV Summer update.
As many of you are this summer has been a very busy and successful one for the PFFV. We have been busy with politics, addressing issues for the PFFV and our members and with our fundraiser. This is an update of our State Association. Fundraiser: We have been calling state-wide for our fall concert "1964", the number one Beatles show in the world

BEN STEIN FINAL COLUMN
For many years Ben Stein has written a biweekly column called "Monday Night At Morton's." (Morton's is a famous chain of Steakhouses known to be frequented by movie stars and famous people from around the globe.) Now, Ben is terminating the column to move on to other things in his life. Reading his final column is worth a few minutes of your time


The International Association of Fire Fighters (IAFF), the International Association of Fire Chiefs (IAFC) and 20 other fire service organizations are calling for the nation's fire departments to observe a "Stand Down" for fire fighter safety beginning Wednesday, June 21, 2006, and continuing until all shifts have been completed

Voters reject Bellows Falls budget
By HOWARD WEISS-TISMAN, Reformer Staff Tuesday, May 16BELLOWS FALLS -- Village residents rejected the fiscal year 2007 budget at the annual meeting Monday. By a vote of 56-46, voters ordered the village trustees to go back to work and present a lower budget at a future meeting

Administration calls pension underfunding 'serious'
The city has underfunded the employee pension fund by $2.79 million over the past two years, Mayor Bob Kiss said Friday, and taxpayers will become personally aware of that shortfall in higher tax rates over the next several years. Chief Administrative Officer Jonathon Leopold said the underfunding of the pension fund is one of the most acute financial problems facing the city

Page Last Updated: Oct 17, 2006 (17:52:00)